Forever North Partners, LLC (FNP), Murrieta, Ca, and Integrated Graphene, Ltd (IG), Stirling, UK, have entered into a strategic North American partnership to sell and market IG's breakthrough graphene technology, Gii®, the world's first pure 3D graphene for advanced sensing technology.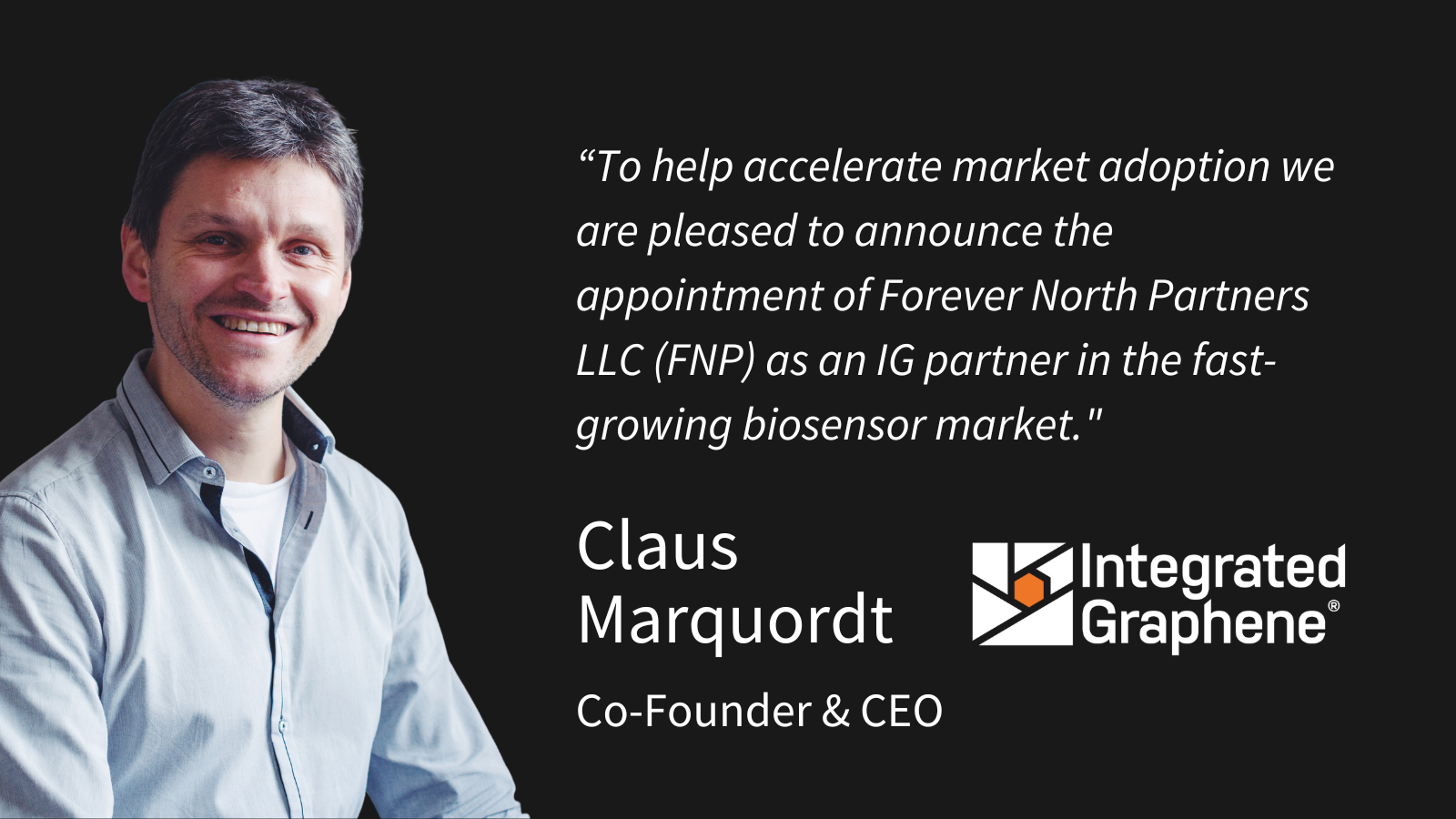 After a significant fund-raising round in June 2022, Integrated Graphene (IG) is introducing Gii-Sens, IG's high sensitivity, high precision, easy to use and implement biosensor into the US market. IG's engineered Gii® allow Gii-Sens to replace the existing gold standard biosensor as well as biosensors made with other materials.
"I am very pleased to establish this relationship with Forever North Partners," said Claus Marquordt, CEO and Cofounder of Integrated Graphene. "To help accelerate market adoption we are pleased to announce the appointment of Forever North Partners LLC (FNP) as an IG partner in the fast-growing biosensor market. FNP partners with high achieving companies who have a proven, unique, disruptive technology and support them on the climb to the next level of growth. FNP's deep knowledge and network in this space will significantly accelerate market adoption and commercialisation of Gii-Sens, and underline our credentials that we take on challenges: We Solve It, Prove It, Guarantee It."
"We have broken through and solved the graphene puzzle for the biotech sensing sector."
In relation to Claus' remarks, Marco Caffio, CSO and Cofounder of IG, commented on the need for IG's relationship with FNP.
"At Integrated Graphene, we have broken through and solved the graphene puzzle for the biotech sensing sector. IG produces high quality Graphene called Gii in large qualities to our customers' demands and specifications. FNP's long tenure of working at high levels within the drug discovery and bio-sensing arena provides IG with a quick jump start for its introduction and broad distribution for advance sensing application in the US."
John Morris, CEO and Cofounder of FNP remarked, "I first became aware of Integrated Graphene in November of 2021 and brought Gii-Sens to the attention of FNP's president and CoFounder, Dr. Eric Reese. Eric has a PhD in Cell, Molecular, and Developmental Biology, and he immediately recognized the importance of IG's breakthrough as a game-changing technology in the biosensor arena."
"I became very excited about IG's advancement in producing high grade graphene"
"I have been involved with and closely connected to a variety of researchers trying to solve all too common graphene barriers for applications in biosensing," relates Eric. "As John and I began having in-depth conversations with Claus and Marco, I became very excited about IG's advancement in producing high grade graphene for use in a variety of biotech applications. Not only has IG solved the graphene application issues, but they can also prove Gii-Sens and guarantee their product results for companies who are developing the next advanced generation of sensing technologies or searching for more cost-effective alternatives. Plus, their Gii-Sens can be applied in seconds. Not hours, as it has in the past."