In today's instalment of our meet the team series, we are pleased to introduce Carla Elizondo, our Commercial Assistant. Carla joined our team in December 2020 and is our front-line of new business engagement. She works hard to deliver informative social posts and blog content, whilst engaging with both new and existing customers to support the integration of Gii into the products of the future.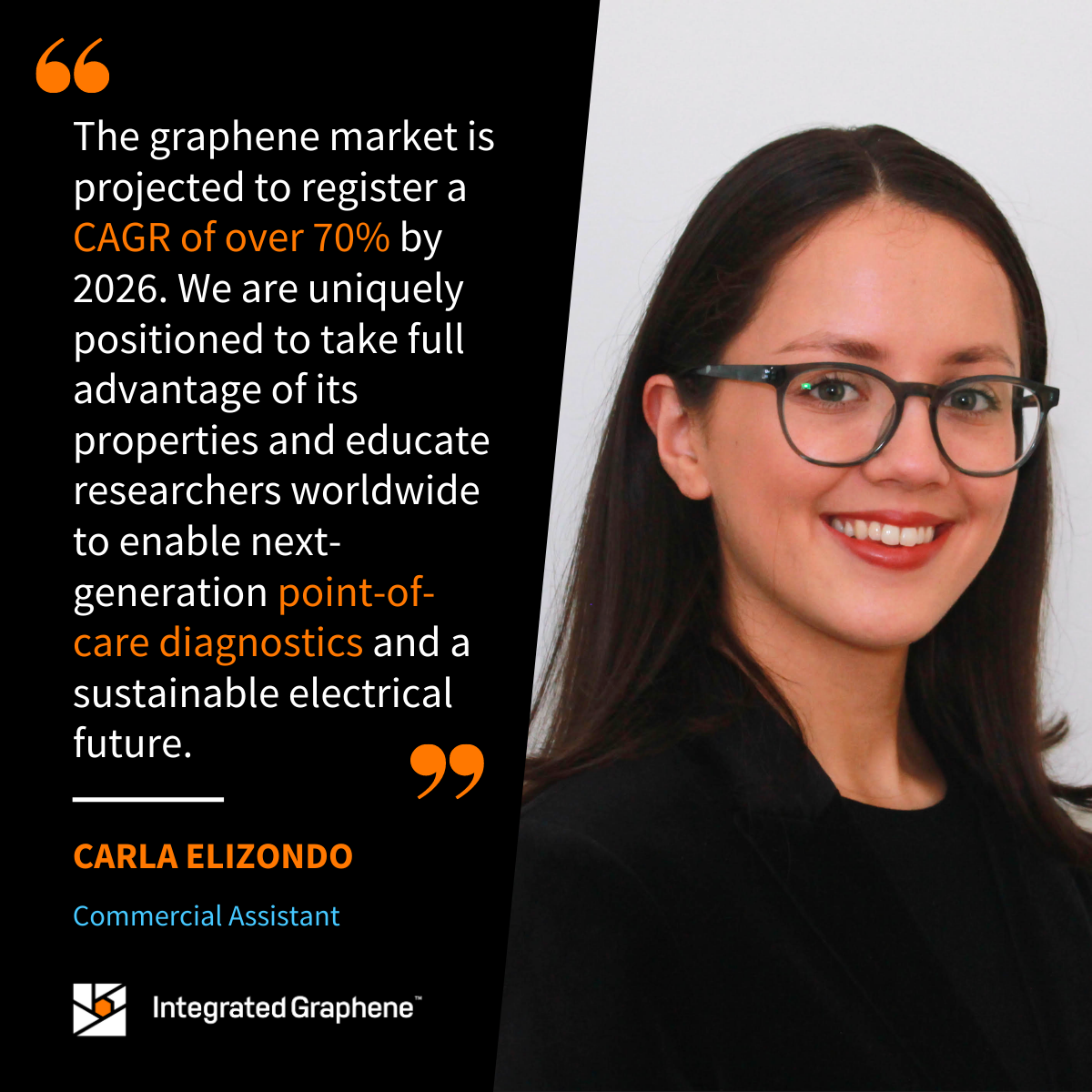 Q: Where are you from and what is your professional background?
CE: I grew up in England and made the move to Scotland for my undergraduate degree and fell in love with the country. After completing my BSc Pharmacology at the University of Glasgow, I undertook a masters in Precision Medicine and Pharmacological Innovation. This joint masters gave me exposure to cutting edge genetic and pharmaceutical breakthroughs and an insight into the business behind the successful commercialisation of medical products. I was particularly inspired by translational sciences and working towards bridging the bench-to-bedside gap that is limiting our access to medical innovations at the point of need. I joined the team at Integrated Graphene after a few months in the Lighthouse Laboratory, Glasgow, helping deliver PCR results for the UK Covid track and trace system.
Q: What does a day on the job look like for you?
CE: As a member of the commercial team, I am lucky to have a huge variety of tasks day-to-day. I collaborate with our development team to deliver informative blogs and social posts to share updates on our technology and its vast array of applications. I am often the first point of call for incoming enquiries and greatly enjoy speaking to world-leading researchers to explore potential collaborations in the medical devices and energy sectors. Enquiries about novel applications are also usually quite exciting!

Q: What are you most looking forward to in 2021?
CE: The global response to the unprecedented Sars-Cov-2 pandemic was an incredible display of the innovation possible when researchers come together to meet a common goal. I am most looking forward to exploring how attitudes to research and collaboration have come out stronger from under the pressures of the pandemic.

Q: How do you see graphene changing the world?
CE: Graphene's wonderous properties are indisputable and from today, the graphene market is projected to register a CAGR of over 70% by 2026. We are uniquely positioned to take full advantage of its properties and educate researchers worldwide to enable next-generation point-of-care diagnostics and a sustainable electrical future.
If you have a project you would like to discuss with Carla or anyone else on our team, then please get in touch today.