Next in our meet the team series, we would like to introduce Siddharth Jethwa, another of our talented Development Scientists.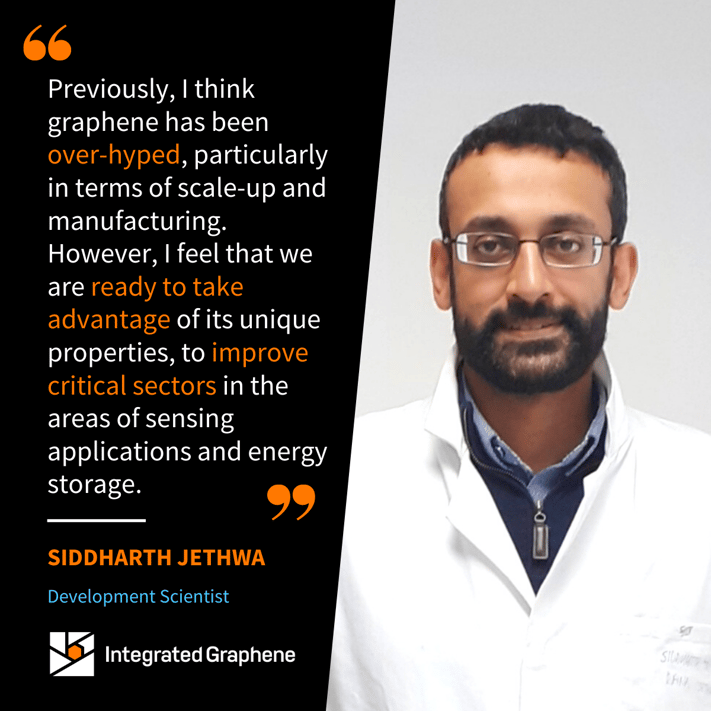 Q: Where are you from and what is your professional background?
SJ: I was born and brought up in the wilds of Crawley, West Sussex. I have always had a love of technical subjects such as science and maths. I completed my PhD in Surface Chemistry at the University of St Andrews in Fife, under my supervisors Professor Neville Richardson and Alan Aitken. This involved the synthesis of molecules for deposition under Ultra-High Vacuum (UHV) conditions. Following this I undertook Postdoctoral research at the Institute of Nanotechnology in Aarhus, Denmark with Professor Trolle Linderoth. Returning to the UK, I briefly worked as a Financial Auditor, but missed the excitement of research, so Integrated Graphene was a perfect match for me.
Q: What does a day on the job look like for you?
SJ: Most days are spent running straightforward experiments and data analysis. However, I really enjoy the intellectual freedom that working in a materials company provides, in that I can pursue my own ideas and research path to achieve my goals, as well as collaborating with others to get products from initial conception, through fabrication and to the final market. It is a very rewarding and interesting role.

Q: What are you most looking forward to in 2021?
SJ: I am most looking forward to finally emerging from lockdown. I am also excited about getting devices that we have been working on in the energy storage sector out to market later on in the year.

Q: How do you see graphene changing the world?
SJ: Previously, I think graphene has been over-hyped, particularly in terms of scale-up and manufacturing. However, given the in-house knowledge and unique manufacturing processes of Integrated Graphene, I feel that we are ready to take advantage of graphene's unique properties, such as conductivity and mechanical strength, to improve niche but nonetheless critical sectors in the areas of sensing applications and energy storage.
If you have a project you would like to discuss with Siddharth or anyone else on our team, then please get in touch today.