Next in our meet the team series, we would like to introduce Akash Ratnayaka, another of our talented Development Scientists.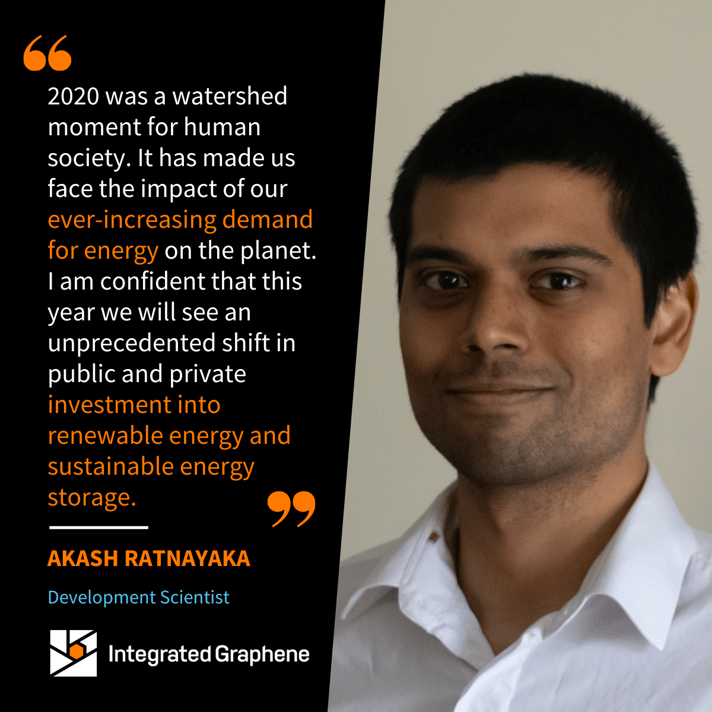 Q: Where are you from and what is your professional background?
AR: I grew up in tropical Sri Lanka and decided to find somewhere with similar warm weather for my undergrad, so what better place than the midlands in the UK? I got my bachelor's at Keele University, followed by a few years of working for the Industrial Technology Institute in Colombo, as an analytical chemist. On the side, I was working with some friends on trying to develop less water-intensive farming techniques for climate change resilience. After a while, I realised I'd hit a ceiling, so I began a Master's in Analytical and Pharmaceutical Science at Loughborough University. After I graduated, I was offered a PhD at the Energy Research Lab in Loughborough University, studying carbon structures in supercapacitors. It was at the latter end of my studies, that I was offered a position at Integrated Graphene, and I couldn't be happier with the move to Scotland!
Q: What does a day on the job look like for you?
AR: A typical day can range from fairly run-of-the-mill experimentation and data analysis, to trying to develop new and exciting ways of utilising our graphene design for manufacture model. There's a lot of freedom to reach a specific goal, and a lot of talented colleagues with diverse backgrounds and insights to help get there.

Q: What are you most looking forward to in 2021?
AR: 2020 was a watershed moment for human society. Not least of all it has made us face the impact of our ever-increasing demand for energy on the planet. I am confident that this year we will see an unprecedented shift in public and private investment into renewable energy and sustainable energy storage.

Q: How do you see graphene changing the world?
AR: With its exceptional thermal, electrical, and mechanical properties, graphene has been long touted as the material of science fiction. The possibilities are vast and encompass a broad range of applications with the most obvious choice being its use in energy storage. Its high electrical conductivity can be leveraged to build faster and longer-lasting batteries with ease.
Stay tuned for more meet the team interviews in the coming weeks.
If you have a project you would like to discuss with Akash or anyone else on our team, then please get in touch today.