Next in our meet the team series, we're pleased to introduce Susan Taylor, one of our Development Scientists.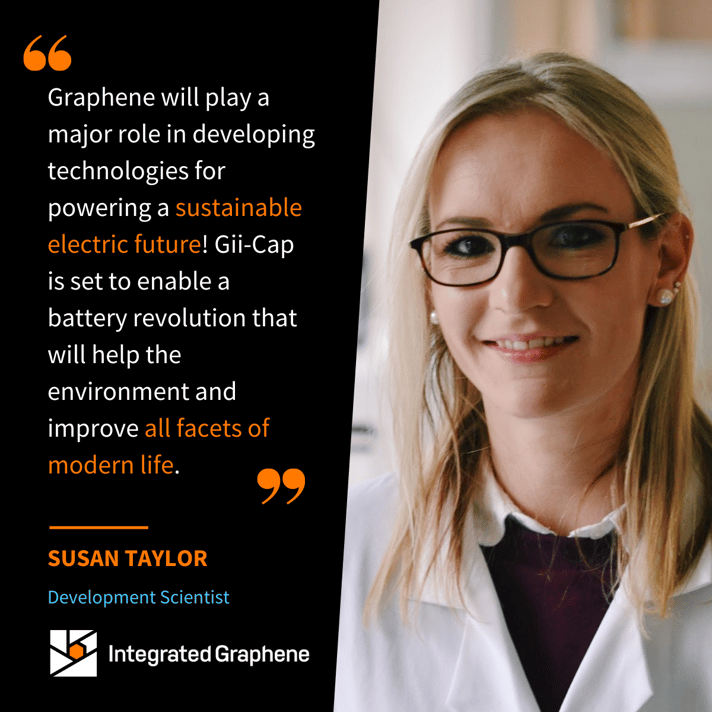 Q: Where are you from and what is your professional background?
ST:
I grew up in sunny Zimbabwe and left at the age of 18 to study Chemical Engineering at the University of Cape Town. After my Bachelor's, I went onto a Master's degree in the HYSA Catalysis group, which exposed me to the to the world of electrochemistry! Here, I worked on platinum/carbon catalysts for fuel cell applications. I then had the opportunity to study a PhD in Switzerland at ETH Zurich in the Electrochemistry Laboratory of the Paul Scherrer Institute. My PhD project focused on the development of micro vanadium redox flow batteries, in collaboration with IBM Research Zurich. After completing my PhD, I moved to Scotland and began my career in industry at Integrated Graphene. I have now been working as a Development Scientist at Integrated Graphene for almost three years, with my research focused on graphene applications in electrochemical energy storage.
Q: What does a day on the job look like for you?
ST: As a Development Scientist, I spend most of my time in the lab, where my days involve running experiments and interpreting and analysing data. This requires great perseverance as any Scientist knows, we experiment, fail, learn and repeat – and sometimes we succeed! I collaborate with the R&D team daily, and together we benefit from fundamental scientific discussions and exchanging ideas. This troubleshooting and decision-making process is key for making progress and achieving our goals!

Q: What are you most looking forward to in 2021?
ST: Despite all the turmoil caused by the current pandemic, I am optimistic about 2021 and excited to see the launch of our first Gii-Cap product, which I have been directly involved in developing. We're getting closer to unlocking the true potential of next generation battery technology for a more sustainable future of power.

Q: How do you see graphene changing the world?
ST: Graphene will play a major role in developing technologies for powering a sustainable electric future! Gii-Cap is set to enable a battery revolution that will help the environment and improve all facets of modern life.
Thank you Susan, we're all looking forward to the launch of Gii-Cap this year!
Stay tuned for more meet the team interviews in the coming weeks.
If you have a project you would like to discuss with Susan, Caroline or, anyone else on our team, then please get in touch today.