Today, we are pleased to continue our series of meet the team interviews, beginning with one of our Development Scientists, David Opar.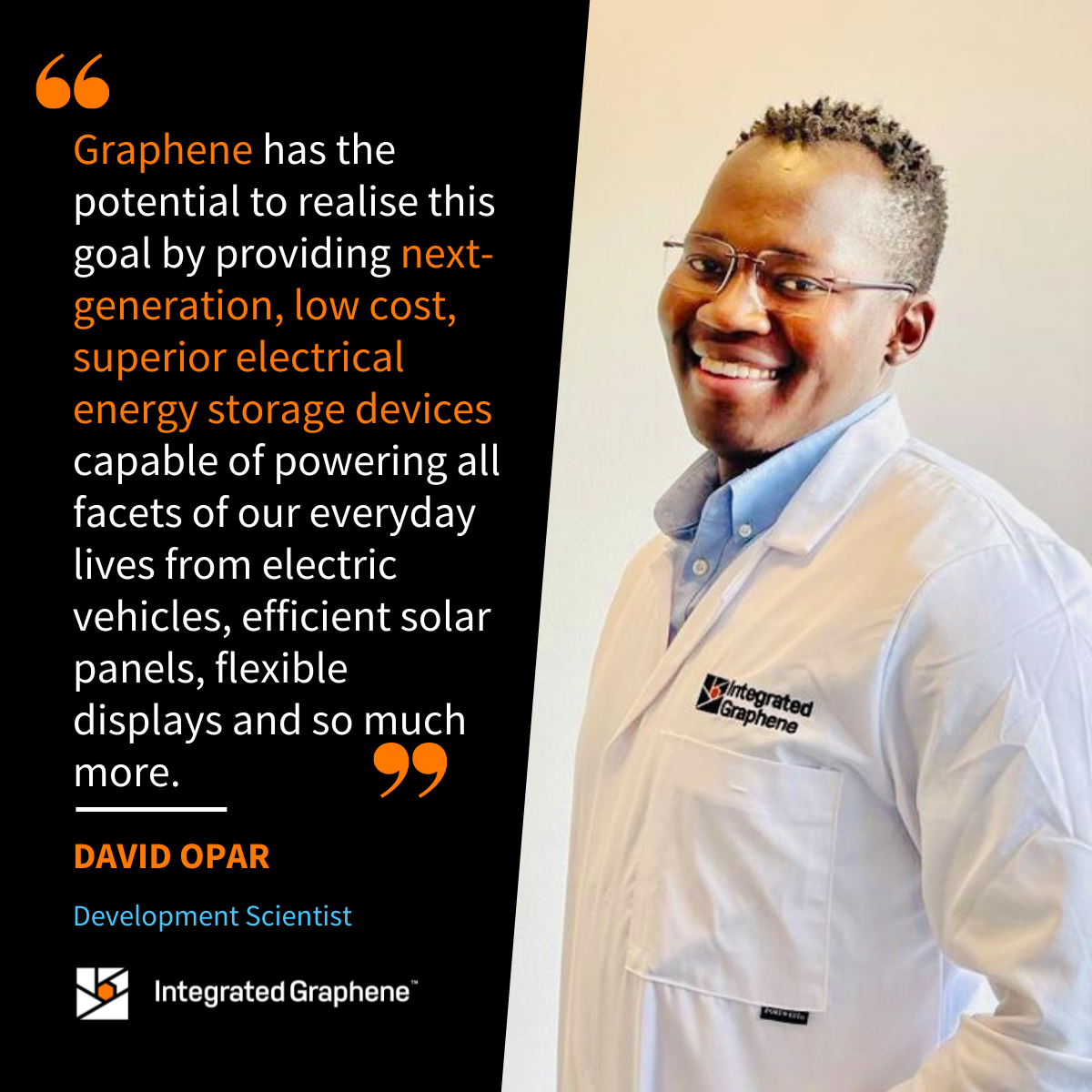 Q: Where are you from and what is your professional background?
DO: I was born and brought up in Kenya, home of the Big Five. I studied Bsc Industrial Chemistry at Kenyatta University (Kenya) and later proceeded for my MSc in Petroleum Geochemistry at Newcastle University. I worked for a few years in the Oil and Gas Industry as a Petroleum Geochemist in Kenya but my passion was renewable energy. Thus, I moved to Seoul, South Korea, for my PhD in Inorganic Chemistry at Dongguk University, a country that will always be in my heart. My research activities focused on nanoparticle systhesis and characterisation for energy storage systems. My PhD thesis was on the assessment of mesoporous graphene-based electrocatalysts for high-performance redox flow batteries. I recently joined the team at Integrated Graphene, a young and exciting company in Scotland; as I have had a keen interest in electrical energy storage technologies for a sustainable future they were a perfect for me.
Q: What does a day on the job look like for you?
DO: As a member of the Gii-Cap team, a typical day on the job involves running electrochemical experiments, data analysis, interpretation, knowledge transfer between colleagues and liaising with the R&D team on product development. I have a high degree of freedom as to how I can design my experiments, and this facilitates endless opportunities in terms of creativity and innovation which is every scientist's dream. I am very lucky to have a great multicultural team of scientists and together we work towards ground-breaking graphene research in terms of product development and its commercialisation.

Q: What are you most looking forward to in 2022?
DO: I look forward to demonstrating the superior capabilities of our Gii-Cap and Gii-Cap+ products. It is a very rewarding experience to see a project from start to finish, from nanomaterial characterisation to proof of concept and finally device commercialisation and the collective success that accompanies it.
Q: How do you see graphene changing the world?
DO: Over the past 4 years during my PhD, I have been fully immersed in graphene research and experienced the endless stream of applications that can be made possible thanks to its unique and exceptional physiochemical properties. Practically, everything around us can be enhanced using graphene. In terms of energy storage, I foresee a cleaner and more sustainable future powered with graphene, imagine charging your phone in seconds or your car in minutes. Graphene has the potential to realise this goal by providing next-generation, low cost, superior electrical energy storage devices capable of powering all facets of our everyday lives from electric vehicles, efficient solar panels, flexible displays and so much more. I am glad to have the opportunity to help contribute significantly towards this goal through research and development of Gii-Cap.
Thank you for the insight, David!
Stay tuned for more meet the team interviews in the coming weeks.
If you have a project you would like to discuss with David or one of his colleagues, then please get in touch today.