Today we are pleased to introduce you to Robin Pierce, who recently joined our team as Technical Lead Engineer. Robin has a wealth of ink system and manufacturing system expertise from a number of roles with companies such as Abbott and Ceres Power. Robin has shared more insight into his experience and how he is using this to support our projects.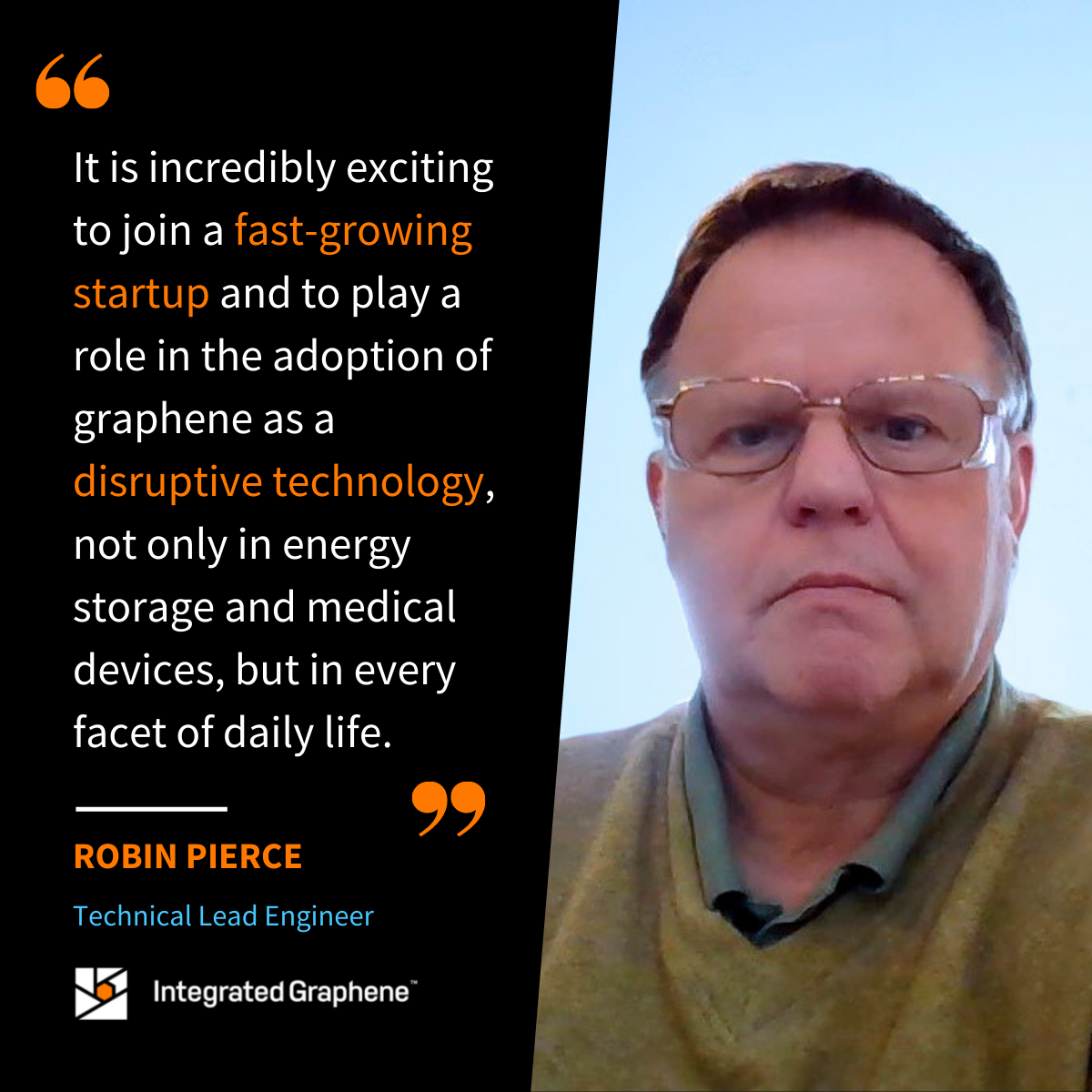 Q: Where are you from and what is your professional background?
RP: I am originally from Wrexham in North Wales and did my first degree at the University of Reading, majoring in Chemistry in 1980. I worked for Medisense/Abbott laboratories for 16 years developing point of use biosensors, mainly for diabetic use. This involved working on the responsive ink systems and transferring the product into manufacturing. It was during this time that I completed a sponsored PhD in biosensor ink systems at the University of Leeds. I then went to work for Ceres Power making solid oxide fuel cells as an ink specialist, designing inks for screen printing their fuel cells and supporting scale up into manufacturing. I then took an opportunity to work for Great Wall Motors in China on their PEM fuel cell development programme. My new role at Integrated Graphene will utilise my experience in both ink systems and manufacturing systems.
Q: What does a day on the job look like for you?
RP: My day involves splitting my time between the labs and office, seeing how things are progressing against the plans and applying my experience to facilitate the reaching of targets. It's a pleasure to work with such a diverse team from a variety of backgrounds and seeing a multidisciplinary approach bring to life ambitious projects.

Q: What are you most looking forward to in 2021?
RP: I am looking forward to the successful launching the Gii-Sens™ and Gii-Cap® platforms. These platforms will show the versatility of graphene in two diverse sectors and hopefully start opening doors to implement graphene in all of our every-day technology.

Q: How do you see graphene changing the world?
RP: Graphene is a novel material with multiple uses. At Integrated Graphene it is being used as a platform for electrochemical sensors, highlighting its electrochemical properties as an alternative to more expensive materials. Graphene's role as a supercapacitor can act as a game changer in energy storage by using less expensive materials than currently being used in batteries.
If you have a project you would like to discuss with Robin or anyone else on our team, then please get in touch today.