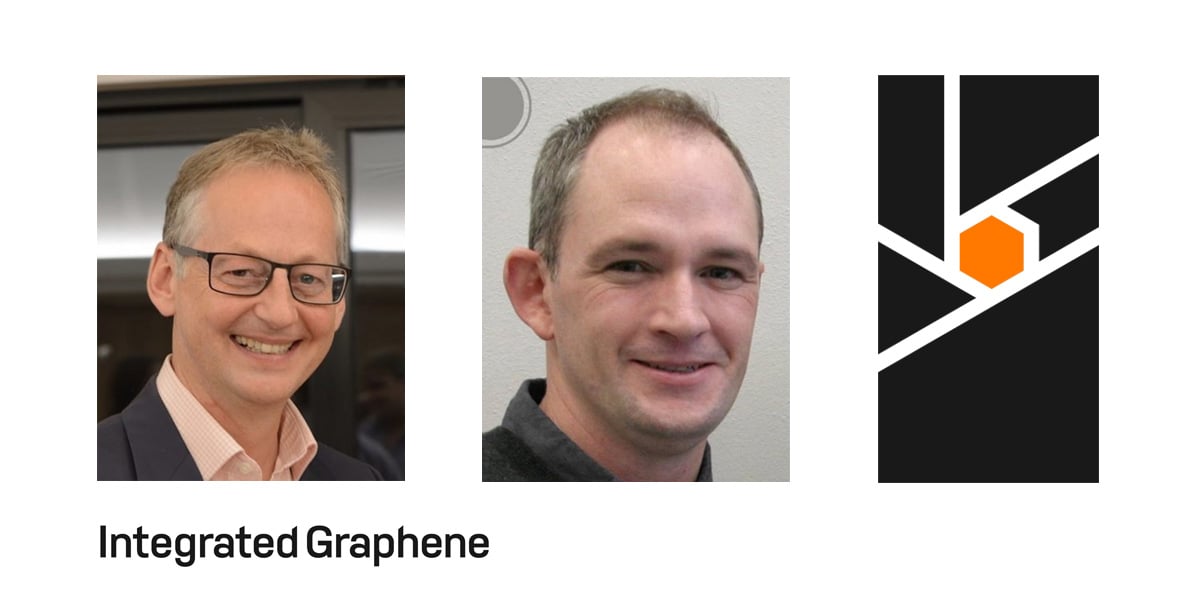 Stirling, Scotland - Integrated Graphene, a leading advanced material supplier who produces high performing pure 3D Graphene Foam, Gii, has announced the appointment of a new Non-Executive Director to its Board, as well as a Chair for its intellectual property management group.
Integrated Graphene has invented, patented and commercialised a revolutionary design for manufacture process to produce Gii on any surface, in seconds. The company operates across an international footprint and has provided medical diagnostics device development services to original equipment manufacturers with great success.
This week, the company announced two new appointments: a new Non-Executive Director, Ewan McLellan and Phil David, the new Chair of the company's intellectual property management group. The appointments represent a landmark for the business as it scales up its operations to respond to applications for its technology across human diagnostics and energy storage solutions.
Phil David, formerly of ARM Limited, joins the business to help the team protect and exploit the breakthrough inventions which have been made, developed and analysed in industry-leading multi-disciplinary development laboratories and through lighthouse projects in various academic and research institutes.
Phil has a BSc in Biochemistry and qualified as a Solicitor in 1992. He joined ARM Limited (the operating company of ARM Holdings Plc) in 1994 and was appointed as a director of ARM Limited and General Counsel in 2003. In 2014, Phil decided to concentrate on the IP aspects of the role and became Senior Vice President of IP and Deputy General Counsel. Phil left ARM in 2018 after it was acquired by Softbank in 2016 and is currently advising technology start-ups. He has over 25 years of experience of the law and in particular the application of intellectual property law in the field of technology.
Ewan McLellan's appointment will further support the team in developing commercial relationships and manufacturing capability with clients whose next generation of products and devices performance will be transformed through the application of Integrated Graphene's breakthrough technology.
Ewan is an experienced high-performing manager and consultant with Blue Chip organisations and has consulting experience across multiple sectors. Formerly with Future Fibres and Cap Gemini Consulting, Ewan successfully delivered high growth in a high technology environment, building and leading teams that over-delivered on company objectives. This included investing in R&D to successfully develop, test and launch the highest performing carbon rigging product on the market. He is also the Chairman of UnikLasers Ltd and is an experienced Non-Exec Director across multiple sectors and company lifecycles.
The two appointments come hot on the heels of the company announcing scale-up entrepreneur Chris Gauld as Non-Exec Chairman of the board and are seen as further confirmation of the company's ambition and its technology potential in a range of applications.
Claus Marquordt, CEO and co-founder commented; "I am delighted to be working with two professionals who have such a firm grasp on technology scaling. I am confident that both Ewan's and Phil's backgrounds will provide Integrated Graphene with the additional thought-led capacity to continue to expand our well-established and new services across developing technology sectors. Their background in technology and fast-paced SMEs are complementary to Integrated Graphene's offering and I look forward to working with them on key projects"
This news follows the recent closure of the company's series A funding which spearheaded significant investment and growth plans for the business.